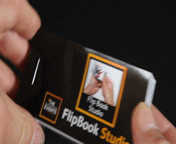 truly tangible entertainment
Everyone remembers Flip Books, don't they. They've been around for over a hundred years but only recently have they become digital.
Our Flip Book studio is typical of all our products, in that it is smart and tidy, the equipment is well organised and your guests will find everything they need to make a brilliant flip book with ease.
All your guests need to do is choose some props or masks, select a background from our green screen choices (underwater, space, safari or something of your choosing. Then they will have about 6 seconds to perform their funniest sketch in front of the camera.
Our Flip Book Studio records the action and then starts printing the 60 or so pages that make up the Flip Book. Two quick cuts and the pages get placed in a cover - which can be customised to your event or brand. A final staple and the book is ready to go.
We only use high quality, high resolution cameras in our studios and all printing is done on fully professional photo printers. This combines to ensure that every page of your Flip Book is printed on the highest quality photo paper with the best quality images available.
The process takes about 6 minutes to print and produce each book. Multiple printers mean we can create enough books to keep all your guests happy. Approximately 40 books can be printed per hour